If you live in Leeds and want to have your say on what we do, the Focus Group is for you!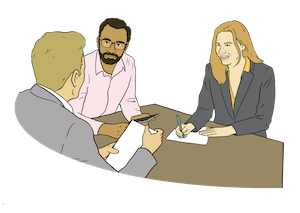 We have regular meetings where citizens of Leeds and people who have used any of our services can join and have their say on what we can do better. The Focus Group currently meets online due to the COVID-19 pandemic.
It is chaired by Phil Gleeson, one of our Trustees. It is also attended by at least two members of The Advonet Group staff team, who will take any feedback given on board and use it to make positive changes.
What Does the Service Do
The Focus Group is a coproduction group. Coproduction is where a service works with the people and communities it serves to produce things like policies and information resources.
At each meeting, one main topic is talked about. In previous meetings, the Focus Group has discussed:
Feedback, compliments and complaints
Making some of our resources more accessible
At the end of each meeting, anyone who attends can put themselves forward to attend the following Board meeting to speak on behalf of the Focus Group. At least one person from the Group can attend that meeting.
Who is the Service For?
The Group is for anyone who is a citizen of Leeds and/or has accessed any of our services. It is free to attend and supported by members of staff and The Advonet Group's Board of Trustees.
Group Meetings
Our next in-person Focus Group meeting is on Wednesday 1st February from 11am-1pm. It is about housing and self-advocacy. More information about the meeting is at this link: Focus Group meeting