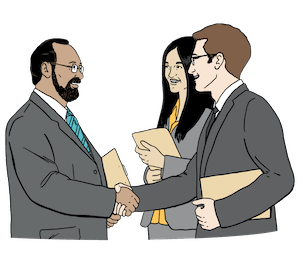 Peter joined Advonet as Chair in 2018. He has served as a Board Director, Governor and Trustee in many settings, including schools, The Leeds Playhouse, Northern School of Contemporary Dance and Partnership Boards. Peter was a very longstanding Leeds City Councillor representing the Cross Gates and Whinmoor Ward in East Leeds for 25 years.
Peter says:' I think the work Advonet does is hugely important and I am very proud to be involved with colleagues, who are so passionate and dedicated to making a positive difference in peoples' lives'.
Away from his charity roles Peter enjoys travelling, reading, the performing arts and keeping up with exercise.
Emma is the finance director of the Avalon Group. The Avalon Group is an award-winning charity providing flexible person-centred care, support and companionship for everyday life, housing, learning and employment who provide support to a wide range of individuals across the North of England. Customers include older adults, people with dementia, physical, sensory or learning disabilities, mental health difficulties, acquired brain injuries, young people in transition and adults on the autistic spectrum.
Prior to joining the Board, Emma was the Advonet Group's Finance Director (2016-18). Emma came to Advonet from KPMG where she was a manager, having started as a graduate trainee in 2003.
Since training as an accountant, Emma developed a keen interest in the Charity sector, and gained valuable insight into the financial and regulatory operations of not-for-profit organisations, having led audits and reviews within the sector while working at KPMG.
I moved to Leeds in 1978 to take up a post with Leeds City Council and the City is now very much home. I worked for the City Council in Venue management, until taking early retirement in 2009. Many years ago I became a Citizen Advocate and eventually chair of Leeds Advocacy which specialised in learning disability issues and of course merged eventually with other organisations to form Advonet.
I maintain a keen interest in learning disability through The Advonet's involvement in Leep1, and volunteer with them. I enjoy contributing to Advonet governance at a strategic level on the board and feel very proud of the organisation's record in delivering high quality services to some of the most vulnerable people in society.
Mushtaq came from Pakistan 32 years ago and has been living in Leeds, ever since. He has just taken early retirement from the Leeds Teaching Hospitals NHS Trust where he worked in the genetics department for 30 years, the last 10 years as a senior manager. All his work (voluntary and paid), over the years, has been with people with medical conditions and organisations who are supporting people affected by different disabilities.
Over the years, he has been involved with organisations, locally, nationally, and internationally e.g. tThalassaemia Society of Pakistan and Alzheimer's Society of Pakistan. Locally, he worked with Citizen Advice Bureau, Association of Blind Asians and Leeds Black Elders Association.
I was attracted to the philosophy and work of The Advonet Group and joined as a Trustee in 2018, because he considered himself as an advocate of people of all ages, gender and backgrounds who face inequity in their lives, one way or another.
Mushtaq brings considerable interest, experience and knowledge of psychotherapeutic counselling, leadership and working with people of different cultures and backgrounds which will enable me to make a valuable contribution to organisation which will invariably benefit the users of its services.
Born 1957 in Germany near Munich.
Came to the UK in 1964.
Attended various schools in this country and abroad. Studied History & Politics at Lancaster University.
Lived in Munchen after leaving University to study German at the Goethe Institute.
Lengthy period of unemployment after returning to UK in 1981.
With two other set up a Worker's Photography Co-operative called "Photogenics".
Studied Tourism in Manchester Polytechnic in 1987/88 and IT Technology at Thomas Danby college in 1994.
Did various jobs until settled on full time work at an insurance broker and then for an insurance company working in motor claims.
In 1990 I offered myself as a citizen advocate for Leeds Advocacy and have been involved in this field ever since and took part in the discussions to what eventually became known as the Advonet Group and have been a Trustee on the board since 2014.
I am a disabled person with experience of being supported to have my voice heard by a community advocate back in 2009. Prior to this, I was isolated in my community and wasn't understood. After working with my community advocate, I then embarked on an internationally recognised leadership course called 'Partners in Policy Making', which gave me the confidence to advocate for myself and support other people through the challenging system of social care.
In 2011, I was the first person in the UK with cerebral palsy to be awarded with the Winston Churchill Fellowship. This allowed me to travel to North America and Canada for 4 weeks to study best practise of disability. When I returned home, I was privileged to advise the coalition government on the Children and Families Act.
In 2016, I joined the board of CHANGE as a Trustee Director. I am now the co-chair of the CHANGE committee within the Advonet group.
I am also the founder and CEO of Your Support Matters CIC, which is an organisation I set up to support people to find PAs and navigate the social care system on a peer to peer model. We offer support for both the Individual Employer and the Personal Assistant which makes us unique.
I believe everybody has the right to have their voice heard. I am looking forward to working with the rest of the Advonet board and its staff and sharing my knowledge and experience.
I am born and bred in Beeston, Leeds and love this great city and want it to be the best. I now live in Holbeck with my wife Jenny and son Robert, I also have 2 other children, Lianne and Jason and a grandson Shae. I have always enjoyed building and making things, I still do when I can. My dream is to have a fully fitted workshop.
I'm always asked what my hobbies are and I reply, "volunteering and helping others".
I was able bodied up to just after my thirties, so I understand to a degree both the able and disabled world. Crucially, I understand how difficult it can be for people to access not just buildings but services. I endeavour to help others change the way society caters for people with differing abilities, so they can live a good, healthy, happy and safe life.
I studied engineering at Uni of Leeds through my working life to become a qualified Patternmaker, during my illness I gained a degree in art at open university to keep my brain active.
I have always believed in the adage that if you are going to complain you have to have a solution, or ensure you've been to someone who can help. Don't just sit back and complain; get involved, be an active citizen.
I have had help from mental health services and advocacy at different times during my illness hence my passion for research and how it will help solve a lot of the health problems.
I'm involved in ensuring access (or the lack of it) in the city. I'm Co-chair of the Better Lives Board, A Leeds City Council Hub Representative, Trustee of Access Committee for Leeds, Touchstone, Leep1, Leeds involving people, change committee member, member of the Service Users and Carers Strategy Group at Leeds Beckett University, member of NIHR (National Institute for Health Research) PPI forum based in Sheffield.
Doing and being involved in these things means I am giving back to those who helped me and still do. as I tell people "If i can I will; if not, I'm in bed recuperating."
I've worked in the Local Authority and Higher Education sector for over 20 years, and I am currently working for Kirklees Council as a Structural Engineer. I joined Advocacy Support (one of the organisations which previously co-managed Advonet) as a board member in 2003 and took up the Vice Chairperson role from 2006.
I believe in social cohesion, inclusion, equality and harmony. I fully embrace the values of The Advonet Group in removing language, cultural, economic and social barriers to ethnic minority groups in the UK; in empowering minority groups in scrutiny of institutional inequality, disproportional social exclusion and in promotion of equal access to public services. I am also a governor of a primary school and a further education college.
I have been involved since 2015 at Advonet in my role as a trustee (and formerly at Advocacy 4 Mental Health and Dementia) and have truly embraced the values of the organisation, working with the team to take it to the next level.
Professionally, I have been all over the place (!) with IT & consulting background with a blend of strategic & operational experience in various industry sectors.
Joined civil service in 2018, initially with PHE and now moved from the ONS on loan to the Cabinet Office PM C-19 Task Force since Nov 2020, serving in the directorate that provides the Prime Minister and Cabinet with the best evidence and analysis of policy options to defeat C-19. In the ONS I have served as a Senior Data Architect.
Prior to that, I have worked in private healthcare consulting in Leeds; also worked in various roles in multi-national corporations, managing complex IT projects, across several industry verticals.
Besides work, I am very passionate about sports and have been playing for East Leeds Cricket Club in first division leagues for many years.
Sue joined our Board of Trustees at the start of 2023. She is Deaf herself and has years of experience of working with the Deaf community. In her current role, she manages a residential project for Deaf people who have mental health issues or other support needs.
She also manages an Outreach team who support Deaf people with additional support needs to live independently in the community. In addition to that, she manages the Leeds Housing Support Service for Deaf, Deaf Blind and Blind people.
Since joining the Board, Sue has been providing our staff team with Deaf awareness training and is working to help make our services more accessible.
I am an open-minded, friendly and loyal person who has developed a mature and responsible approach to any task that I undertake. I am working for Leeds City Council currently with the role of enforcement on housing standard issues.
I am a graduate with over 20 years' of experience in Environmental Health and the expertise in areas such as food hygiene, disabled facilities and acoustics.