Leeds Autism AIM
Leeds Autism AIM is a free service for autistic adults in the Leeds area who receive little or no funded support.  It was founded in late 2014 by Advonet and is co-led by a number of autistic adults and carers/parents of autistic adults.
We developed the service after running some specialist autism advocacy and mentoring provision.  It was set up with autistic adults because there was a need identified for ongoing support to help people achieve their potential.
We offer three main services – advocacy, information and mentoring.  We run a weekly drop-in at Lovell Park Hub on Tuesday afternoons from 3:30-7pm and a weekly session at the same venue for booked appointments on Friday afternoons from 4-7pm.
Starting in June 2019, we also offer a fortnightly post-diagnostic support session on Thursdays from 4-7pm. It is for people in Leeds who have received an autism diagnosis within the last six months.
Advocacy
We can offer advocacy support at our weekly drop-in on Tuesday afternoons, or at our quieter Friday hub session for booked appointments only.  The Tuesday session is from 3.30pm-7pm, whilst the Friday one runs from 4pm-7pm.
We also run regular post-diagnostic support sessions for newly-diagnosed autistic adults in Leeds. For more information on those, please visit the Leeds Autism AIM website at the link further down this page.
Some of our paid staff are fully-trained advocates, some of whom are autistic themselves.
Information
Information and signposting are both major parts of what Leeds Autism AIM can offer.  You can find out info and get signposted to services at either of our two autism hubs, via email or phone, or through our website.  We can arrange to meet you at either hub if you want to know about a specific topic.
Mentoring
Our mentoring service provides one-to-one support by matching you to a specialist trained mentor.  The mentor can meet with you to help identify goals and help to develop a plan to overcome barriers to achieving them.
Some of our mentors are autistic themselves, whilst all of them receive awareness and mentoring training before they're ready to be paired with a mentee.
More information
To find out more about Leeds Autism AIM, why not visit their website.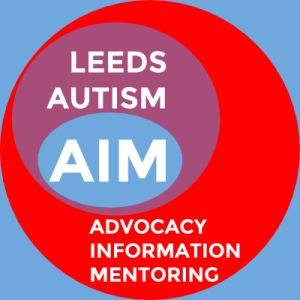 Follow Leeds Autism AIM on Twitter at
@leedsautismAIM
Follow Leeds Autism AIM on Facebook at
@leedsautismaim
Follow Leeds Autism AIM on YouTube at
Leeds Autism AIM
Latest news on Leeds Autism AIM