About us
The Advonet Group is an independent advocacy charity based in Leeds. We aim to help make your voice heard and get your rights met. Advocacy is free, independent and confidential.
We have the following advocacy services:
Care Act Advocacy
Community Advocacy
Health Complaints Advocacy
Independent Mental Capacity Advocacy (IMCA)
Independent Mental Health Advocacy (IMHA)
We also have four projects that aim to promote the rights of people with learning disabilities and autistic people. Asking You!, CHANGE, Leeds Autism AIM and Leep1 – Leeds People First are united by a commitment to advocacy principles. All four of the Group's projects are user-led.
Our values
Independence and Empowerment
Trust each other to make decisions, provided we work within the organisation's framework of values, policies, processes and resources, including the Advocacy Charter
Strive to actively support and constructively challenge ourselves, our clients and external professionals
Striving to ensure that available resources are accessible to everyone
Integrity
Open, honest and transparent with our clients, ourselves and other professionals about what we can and cannot do
To be accountable to each other and our clients; to take responsibilities for our actions
Be open to challenge, to reflect on and take responsibility when things don't go as planned
Celebrate the organisation's achievements and successes
Equality and Diversity
Strive to ensure we are inclusive and accessible regardless of ethnicity, gender identity, race etc. to meet the needs of both colleagues and clients wherever possible
Offer training and development to colleagues and service users to promote equality and diversity within ourselves and the wider community
Engage in meaningful 'co-productive; alliances, where time allows, to offer everyone an equal voice
The Advonet Group's history
1998 Advocacy Network-Leeds is established to meet the ambition of local advocacy providers in Leeds to establish an infrastructure organisation in the city which can devote itself to the support and promotion of advocacy.
2000 Advocacy Network-Leeds publishes locally developed 'Leeds Standards for Good Practice in Advocacy'. These have been co-produced by Network members to ensure high-quality consistency is on offer throughout the city. Over the following year members of Advocacy Network-Leeds, along with NHS Trusts and Leeds City Council, all sign up to the standards.
2005 Nationally recognised quality standards for advocacy schemes (the Quality Performance Mark, currently) are produced by Action for Advocacy which are based on the Leeds Standards.
2009 Advocacy Network-Leeds shortens its name to Advonet.
A key component of ensuring high-quality delivery of advocacy is the training that Advocacy Network-Leeds develops. The Effective Advocacy and Negotiation Skills course proves very popular and evolves over time to reflect the changes in the advocacy world. Advonet continues to regularly deliver this training.
2012 Leeds City Council changes how it commissions advocacy in Leeds. Previously, it commissioned separate specialist organisations to deliver advocacy, it now puts out to tender a single advocacy contract for the whole of Leeds: Advonet leads a consortium alongside 6 subcontractors (Cloverleaf, Leeds Advocacy, Advocacy for Mental Health & Dementia, Leeds Black Elders, Age UK Leeds, Advocacy Support) who are awarded the contract. Each subcontractor has a specialism, together they address the advocacy needs of every citizen in Leeds.
2013 As part of the new contract Advonet begins to deliver Health Complaints Advocacy, the first time it has delivered advocacy directly itself. It also sets up the Single point of Access for advocacy so that in future people need call only one number to obtain the advocacy they need.
2015 After two years as the core members of the Advonet consortium the Advocacy for Mental Health & Dementia, Advocacy Support and Leeds Advocacy decide to merge with Advonet, which they previously co-managed. of The three organisations take the view that this merger of choice will create the best vehicle for delivering person centred advocacy support to people facing disadvantage of all backgrounds and all needs. Leeds Black Elders, Age UK Leeds and Cloverleaf remain subcontractors within the consortium.
2016/17 Advonet  provided advocacy support to 3,861 people, amounting to 90% of Advonet's work.
The diversity of Advonet's client base was evident from the final stats. We found that, of those who disclosed it to us, 54% of people who were helped by Advonet are disabled. 40% of clients who dlsclosed to us had a mental health issue, with 20% saying they had a learning disability.
11% of clients who disclosed identified themselves as black, with 9% who did describing themselves as Asian. 30% of clients who disclosed are from BME communities.
50% of our clients said they heard about Advonet through word of mouth.
The top issue people came to us with was medical issues, closely followed by finances and restrictions in freedom while in care.
2018/19 Advonet, in a consortium with Touchstone and Age UK Leeds, were awarded a contract to provide Care Act Advocacy, Community Advocacy, Health Complaints Advocacy, IMCA and IMA services in Leeds.
2019 CHANGE became part of the Advonet Group as a separate enterprise.
2020 Advonet is now known as The Advonet Group.
Our Strategic Business Plan for 2019-2023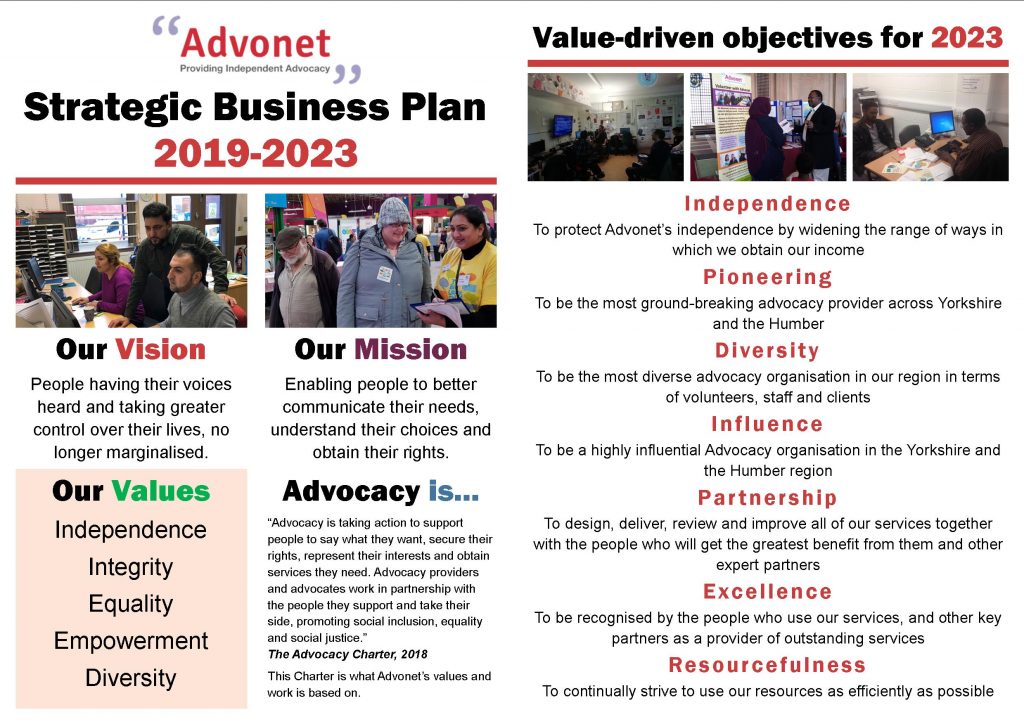 Advocacy Quality Performance Mark (QPM)
Awarded in July 2019
We were awarded the Advocacy QPM in July 2019.  The QPM is the UK's only independent quality performance mark for organisations offering independent advocacy.
For more information about the Advocacy QPM, please visit http://www.qualityadvocacy.org.uk/
Our Awards